Jenson's story – a life-changing step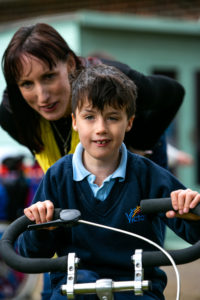 Emily's son, Jenson, was a friendly, smiley little baby but he wasn't crawling or walking like other one year-old's.
Emily says, "he did a little shuffle instead and barely ate anything". While other mums were cooing over their baby's first words, Emily hadn't heard Jenson speak. Both her and her husband, Matt, didn't have a clue what was going on. Emily says, "I can't even put into words how worried we were". 
Jenson was just 13 months old when he was formally diagnosed with a chromosome disorder. For Jenson, that meant his spine was curved and his joints were very fluid, making them really difficult to control. When he was three and still not walking, his parents were told to start looking for a specialist school.
Emily thanked her lucky stars every day that she lived near Livability's Victoria Education Centre, a specialist school offering education, care and therapy for disabled children and young people. She says, "As soon as I heard about it, I thought I'll get my child into this school, no matter what!"
Looking at the world in a different way
Jenson started at the school in September, when he was three and a half. One of the first things the therapists did was to give him a walker, a bit like a Zimmer frame but with wheels. When Jenson was in a vertical position in a walker for the first time in his life, Emily says, "I think he suddenly looked at the world in a different way. It's like he thought - I can do this. I can do this on my own."
"I'll never forget the day I walked into Jenson's classroom and there were six therapists standing in a circle around him. He was walking between one therapist and another, as they clapped and cheered him on. I immediately welled up. Those were his first ever steps without a walker."
The difference Livability makes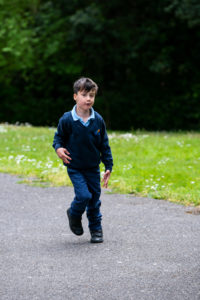 Jenson's now six and has achieved so many firsts since starting at Livability's Victoria School. He's learned to swim, he's communicating, playing and he's even running a race!
Jenson's Dad says, "Let me sum up the difference Livability has made to my son and my family. When I started to take Jenson to school, about two years ago, I used to carry him in from the car. And then, within three months, he was shuffling in with a walker. And then within another three months he walked in on his own. And three months after that, well, he's been sprinting ever since! Jenson even got to run a one kilometre race and I couldn't be prouder.
"When I saw him cross the finishing line, I thought to myself: I'd better pull my finger out!" Jenson inspired his Dad to run the London Marathon. He says, "It was tough, but my son's bravery kept me going all the way to finishing line".  
The impact gifts in Wills can have
Livability is the charity that exists to support disabled people to live a life that adds up for them. For over 100 years, gifts in Wills have helped Livibility run services that support disabled people. Gifts in Wills fund half of Livibility's work, so they are crucial for supporting disabled adults and children in years to come.
The school is just one of the many services that Livability runs to support disabled people.  We run 32 residential care homes, rehabilitation centres for brain and spinal injuries and specialise in independent living, and employment/skills based services to help disabled people pursue vocational paths. We also work closely with churches to encourage social inclusion and community projects that support disabled people.
Michelle Carillo, Legacy Manager at Livability says, "It's wonderful to see Jenson pedalling along on his tricycle and no-one would guess the amazing journey that he's been on, from his first steps to his first race. Gifts in Wills really do help us to make an incredible difference to children like Jenson and without this life-changing support our work simply would not be possible." 
Find out more
If you'd like to find out more, please call  Michelle Carillo, Legacy Manager at Livability, on 0207 452 2099 or email mcarillo@livability.org.uk. Gifts in Wills guide - order Livability's 'Guide to Leaving a Gift in Your Will' here Alternatively you can find out more at www.livability.org.uk/giftsinwills