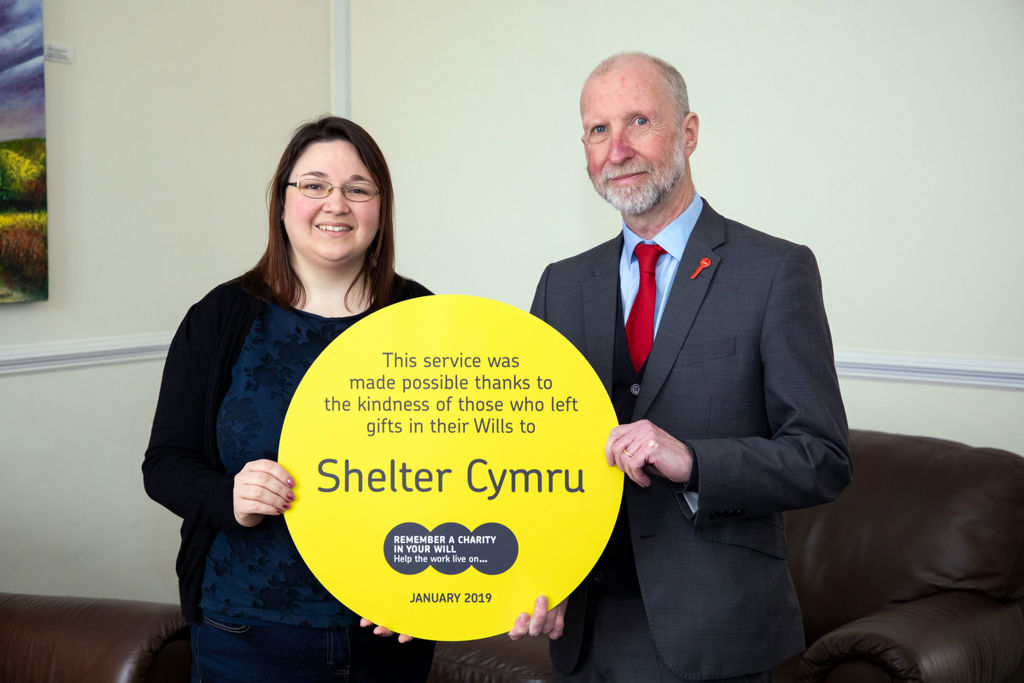 Charity testimonials
Here's what some of our members have to say about the benefits of being part of the campaign.
Nick Gilbert, Manchester United Foundation

Why did your charity choose to get started with legacies in 2020?

It's only in the last 18 months or so that the Foundation has developed a stronger focus on fundraising. In the past, we've relied on community events and activities, but we're now taking a more strategic approach, moving into major giving and, more recently, legacy giving.

Why did you join Remember A Charity?

Legacies have always been on my radar and, when I read about Remember A Charity Week, it just seemed like a great opportunity to get started. Too often, the challenge for fundraisers is having all these ideas, and knowing what we should focus on now. Legacies can slip down the list and, before you know it, you're another five years down the line.

The bonus of Remember A Charity Week was that it gave us a reason to get started now; a deadline to work to and a focus for getting our legacy programme off the ground. And it gave our comms team a clear timeline; their help was instrumental. They ensured that legacy giving to the Foundation was featured on the Club App during Remember A Charity Week. So that was brilliant!

Why do you think legacies should be prioritised?

Having worked in development for years, I think that legacies are probably the only way to know that the charity you work for – the one you love – will succeed long into the future.

If you have a short-term mentality it can be hard to make them a priority. You can't forget that you need to bring in money throughout the year, but longer-term thinking is vital. It means you can generate a sustainable income stream for the years ahead.

What do you hope that legacy fundraising will enable you to achieve?

I'm a massive believer that giving should make people feel good. And I honestly think that legacy giving is such a special thing to offer. That by leaving a legacy, people know that they will be remembered long into the future and that they have made a difference. For a Manchester United fan – as I am – you want to feel like you're still a part of that place when you've left this world.

There isn't much of a focus on fundraising in football, let alone on legacies, but United has really understood how important this is, even though it can be a bit sensitive for us as a major club to talk legacies.
Jane Smith, Anorexia & Bulimia Care (ABC)

Jane Smith, CEO of Anorexia & Bulimia Care (ABC) talks about overcoming the challenges her charity faces with legacy fundraising and how just one gift in a Will made all the difference.

"To date we've received one in memoriam legacy and it was completely transformational for us and our beneficiaries. The stigma and misunderstanding around eating disorders can make this type of fundraising difficult, but communicating what this one legacy has enabled us to do will – we hope – encourage many more supporters to do the same."

What has been the charity's experience of legacies so far?

While we've been a charity for almost 30 years, we're near the start of our legacy journey. To date we've received one in memoriam legacy, and it was completely transformational. With it, we built a team of staff and our current website, developed online training courses for the public through a new virtual learning environment, and much more. The number of people we could help rose dramatically as a result of this one gift.

What difference could a more reliable legacy income stream mean for your charity and beneficiaries? 

It could really move us on. 73,000 individuals used our online platforms last year but we are still a very small organisation with a modest income and just six salaried staff. A legacy income could enable us to plan, put key personnel into other roles that are needed, and give us stability for the future.

Despite the transformational effect of the bequest you received, what prevented you doing more legacy fundraising in the past?

Eating disorders have the highest mortality of all mental health issues, but unlike physical illnesses, there is still much stigma and misunderstanding around them. Conditions are often wrongly considered self-inflicted, and loss of life can therefore be seen as something to be ashamed about, especially by family members, while those with eating disorders are also often in denial about the risks and are very sensitive, which all makes legacy campaigns difficult.

So what's prompted you to invest now?

With eating disorders, unfortunately NHS treatment is inadequate in many cases.  Last year we supported the parents of a 15-year-old girl called Pip McManus who died under a train after being discharged from treatment when she wasn't well enough. We heard about Remember A Charity at around the same time, and this combination prompted us to take action so we can help more people.

Given the challenges, how then are you approaching the subject of legacies and legacy fundraising?

We have a Tribute section on our website and through Remember A Charity we can now communicate to supporters, as well as to a much wider audience. For last year's Remember A Charity Week campaign, we featured one of our Ambassadors who also lost a daughter to Anorexia Nervosa and who sets out information stands at supermarkets (with their permission) offering ABC literature and a chance to talk for those interested and those seeking help for someone they care about. We talked about her awareness building work as well as the legacy that she has committed to leave ABC in an email newsletter. We are also trying to be more creative in our methods of engagement, such as using social media to reach new people.

What goals do you have for the future? 

To raise at least a million pounds through legacy fundraising. We're also going to carry on campaigning with Remember A Charity.

What are your thoughts on the challenges and opportunities around legacies for other charities working in mental health?

There has been a real shift among the public about mental health and it is much more on the agenda, which presents an opportunity for charities like us. However, a challenge for smaller charities is the competition for grants, particularly for causes that are still poorly understood.

What do you see as the main benefits of belonging to Remember A Charity?

Remember A Charity is invaluable: it is a professional campaign with government backing and national reach, giving us resources to help with campaign creation. It also gives us the opportunity to discuss legacies both with supporters and more widely, and we would not have felt able to target supporters without having it behind us.

What's your advice for other charities exploring legacy fundraising?

If you feel the issues you deal with are misunderstood, don't be afraid to speak up. If there is stigma and misunderstanding, challenge it. Tell the story of your beneficiaries, and why they have experienced what they have, and find an ambassador who is going to leave a legacy and explain why.
Philip Simmons, Dogs Trust

Philip Simmons, Legacy Officer at Dogs Trust explains how Remember A Charity has helped the charity evolve its legacy fundraising by providing them with a bigger platform for talking about legacies, and increasing their confidence in how to approach the subject with both supporters and staff.

Legacies make up a third of Dogs Trust's income, accounting for £30.4m of its total income in 2016.

"Legacies are vital to us but can be a difficult subject to raise with supporters. Remember A Charity In Your Will Week has really given us the opportunity to spread awareness to our own staff as well as to supporters, and our legacy fundraising has evolved to the point that we now feel comfortable talking to supporters."

Why did you join Remember A Charity?

Legacies are vital to us, and to all charities. Without the generosity of our supporters we wouldn't be able to care for and rehome as many of our canine friends to loving new homes. Many charities wouldn't be able to survive or would have to vastly restrict their services without them.

For Dogs Trust, legacies make up a third of our income but it can be a difficult subject to raise with supporters because of its sensitive nature.  It made sense to join Remember A Charity because by enabling charities to come together as one voice, it gives us a bigger platform for talking about legacies.

What have legacies enabled your charity to do?

Legacies have helped us to do so much, including opening more state of the art rehoming centres, building vet suites and training halls – all to care for our four legged friends. We care for over 15,000 dogs a year and that is in no small part down to the generosity of our kind supporters who have left gifts in their Wills.

What are the main challenges with legacies?

Being able to talk about them. It's about striking a balance between trying to tell people how important they are while also being sensitive because it can often be a very personal and emotional matter.

How do you address this within your fundraising strategy?

Part of the strategy was definitely joining Remember A Charity. Having a dedicated week to talk about legacies has really helped break the taboo and make it the norm for people to consider leaving a gift to charity in their Will.

How has your legacy fundraising evolved in recent years?

Our legacy fundraising has evolved to the point that we now feel comfortable talking to supporters about this subject.  Also I think the way we communicate has changed, with social media now a good way to speak to more people. For Remember A Charity Week, social media is used heavily and has proven effective.

Has anything about legacy fundraising surprised you?

I'm constantly surprised by how deeply kind and incredibly generous people can be and am often moved by people's reasons behind leaving a legacy to Dogs Trust and other charities; there is a real sense of pride.   

What's been your experience of Remember A Charity?

It's great for bringing everyone together and learning from each other. We meet four times a year and being able to bounce ideas off other charities is invaluable. Also, Remember A Charity in your Will Week gives us a real opportunity to focus departments in the organisation on legacies as we work with them in the build up to the event as well as then having the whole week dominated by the subject.

How did you get involved during Remember A Charity in your Will Week?

Last year was probably the most we have done in Remember A Charity week, pulling together several different teams (and our canine friends too) to reach out to as many people as possible. The theme was 'What words of wisdom would you pass on to the next generation?' Our CEO got involved and shared his words of wisdom, as well as various other members of staff and corporate partners. We asked members of the public to write their words of wisdom on speech bubbles, which were displayed in our charity shops and rehoming centres. Using social media we could also ask our supporters the question and see what their words of wisdom were. They were amazing and there were some great quotes, which we posted on Twitter, Facebook and instagram. Also having pictures of cute dogs always helps any message!   

What was the impact of your activity during last year's Remember A Charity Week? 

It's hard to track actual legacy pledges although we do get people on social media responding to our posts saying they have left us a legacy. Our most popular post, and also my favourite, was on Instagram from our CEO. He shared his words of wisdom and it got 827 likes.

Last year we also saw 259 people visit our legacy pages compared to 187 the previous week. It may not sound a lot but considering how valuable a legacy can be to us it certainly shows a bigger awareness.

What are the main benefits of joining Remember A Charity?

I think the main strength of Remember A Charity is the wealth of knowledge you have access to from other members, which can help you shape your own legacy plan. Remember A Charity really brings charities together to shout about the importance of legacies. The work they're doing with solicitors is also vital and could have a big impact on gifts in Wills for all charities.

Having a week in September dedicated to talking about legacies is also a really good way to get everyone in your organisation involved and understanding a bit more about what you do.  Remember A Charity in your Will Week has really given us the opportunity to spread awareness to our own staff as well as to supporters.

What tip would you pass on to fellow fundraisers?

Don't be afraid to speak to supporters about the importance of legacies.
Katie Tennyson, Senior Individual Giving & Legacy Manager at Hft talks about how the charity has rejoined Remember A Charity after winning more support for legacies and legacy marketing within the organisation and amongst supporters by finding new ways of communicating the benefits.

"Legacy income helps us provide people with a life, rather than just an existence."

When and why did you join Remember A Charity?

As a small charity focused on learning disabilities, it can be difficult to engage people, so we felt it would be beneficial to join a bigger organisation because it has a much wider reach than we could achieve on our own.

We've actually been members twice – first in 2008-2009, and then we have just rejoined Remember A Charity this year. The first time around we weren't really equipped to take on big campaigns or to participate with everything. Now however we are in a better position to be able to do so with our own in-house PR team too so hope to be able to play a bigger part.

How important are legacies to charities?

They're vital. Legacies are a major income source for a lot of charities and many would be stuck without them.  For learning disability charities, legacies are very important. We get fees from local authorities for the people they support but what they cover is very basic. Legacy income helps us provide people with a life, rather than just an existence.

What has been your organisation's experience of legacies?

We used to accept that legacies just came in and so didn't do any active legacy marketing. Over the past eight years however we've made a lot of changes to try and make it the norm to talk about legacy giving to our supporters, and to engage people with the idea early on. This has also included educating frontline staff to be legacy ambassadors, and working to help our trustees and board understand the need for legacies and legacy marketing.

It was initially quite challenging to get everyone within our organisation to understand the importance of legacies and of getting supporters on the legacy journey early on – essentially if you don't ask them someone else will ­– but once we got some of our trustees on board it became a lot easier to get others' buy-in and consequently to get the budget we need.

What are the main challenges with legacies?

People often feel that they can't leave enough so then don't leave anything, so one challenge is getting supporters to understand that a legacy doesn't have to be a massive gift or a whole property. We're trying to get the message across that any gift is gratefully received.

There's also the issue of sensitivity: people haven't liked to talk about legacies and charities haven't liked to ask, but it's becoming a less sensitive issue. Legacies are talked about much more these days: by families, as well as charities.

How do you address these challenges within your fundraising strategy?

A couple of years ago we came up with the idea of demonstrating to families just how we use legacy income to show the huge and tangible difference it makes. We put a percentage of it into a pot and encourage staff to apply to this for funds for something specific to help the person they support. This has also really engaged staff with legacies because they know that legacy income can provide them with money for special projects and items that they otherwise couldn't afford.

We also run dedicated campaigns to encourage people to leave us a gift in their Will. This year's campaign is called 'Will you say yes?' and all of our communications will revolve around it, including our activity around Remember A Charity Week.

Has anything about legacy fundraising surprised you?

One of the biggest surprises has been fellow fundraisers' opinions of legacy fundraising. Quite a few still think that it's a subject you can't broach with supporters but actually it's something they want to hear about.

What are the benefits of getting involved with Remember A Charity?

For smaller charities with limited budgets, joining Remember A Charity gives you the ability to reach a much wider audience than would otherwise be possible and helps you build brand awareness. It provides you with a bigger voice with every organisation in the consortium saying as one that leaving a gift in your Will is a good thing to do.

There are also a lot of tools provided by Remember A Charity to help with legacy fundraising activity that smaller charities might not otherwise be able to afford. And, through the consortium you have access to other charity members that you can talk to, share your experiences of legacies and legacy fundraising with, and learn from, which is very valuable.

Do you have any tips to pass on to fellow fundraisers?

– Get legacies in wherever you can. Mention them as often as possible – on the backs of envelopes, and in your email sign offs for example.

– Calling legacies gifts in Wills can be a friendlier term to start off with when first broaching the subject with supporters.
Clare McCulloch, Product Marketing Manager (Legacy and In Memory Giving) at the Royal National Lifeboat Institution (RNLI), explains why the charity is involved with Remember A Charity and how it offers a touchpoint to promote legacy giving internally and externally.

"Six out of ten RNLI launches are thanks to legacy donations and charitable bequests, so promoting leaving a charitable gift in a Will is integral to our fundraising activity. In 2014, the RNLI promoted Remember A Charity in your Will Week on social media and internally, providing information about legacy giving to fellow fundraisers and volunteers so they could spread the word."

Why did you get involved with Remember A Charity?

"The sector as a whole stands to benefit from raised awareness of legacy giving, so the RNLI was keen to add its voice to the overall promotion of the week. We fully support Remember A Charity's aim to increase the percentage of Wills with a charitable gift; just a 4% increase would generate £1 billion in additional income for good causes."

What are the benefits?

"Leaving a gift to charity in a Will is not a quick decision and supporters may consider this form of giving for some time before taking action. We inform supporters about this way of supporting the RNLI throughout the year.

"However, Remember A Charity helps to shine a spotlight on legacy giving. At a wider level, Remember A Charity works with the Government, legal industry and strategic partners to raise awareness of legacy giving on behalf of its members; creating a significant collective voice. Members also benefit from networking to share best practice along with a practical toolkit and access to cutting edge research into legacy giving undertaken by Remember A Charity on behalf of members."

How did you get involved during Remember A Charity in your Will Week?

"Based on the theme for Remember A Charity Week, we delivered a social media campaign to celebrate our 'Living Legends'. We showcased everyday people who do extraordinary things for our charity including a shark-diving, tank-driving grandmother, fundraising for the RNLI while completing daredevil acts on her 'bucket list'. The call to action was, 'Find out how you can do something legendary by leaving a Gift in your Will'. We reached over 50,000 people on Facebook.

"Internally, we promoted the week by displaying posters in the workplace and in lifeboat stations, by putting Remember A Charity chocolates on everyone's desks, sending bookmarks to our shops and we 'premiered' the campaign film. Collectively this created a real buzz – a sense of being part of the wider, national campaign – and gave staff and volunteers a reason to talk about legacy giving to supporters. We plan to re-use and grow the success of the Living Legend concept year-on-year."

Why should charities consider joining Remember A Charity?

"Being part of the widespread buzz around Remember A Charity Week gives all charities a very good excuse to talk about legacy giving and empowers fundraisers to spread the word about charitable Will-writing. Members also gain from Will writing and advice services offered through the Co-operative Legal Services partnership.

"In particular, smaller charities with limited access to PR and communications benefit greatly from joining Remember A Charity as they can engage with supporters in a way that would otherwise be unachievable."