A legacy of hope for dogs like Indiana
Published on
Indiana the Deerhound was only three weeks old when she was brought into one of Dogs Trust's Rehoming Centres.
Indiana was discovered living as a stray, along with her mother and six siblings: George, Florida, Louisiana, Georgia, Kansas and Alaska.
When they arrived, they were welcomed into the Dogs Trust family and given a health check by one of their expert vets. Indiana's family were given the all-clear, but there was bad news for Indiana, as she had fractured her leg and needed immediate attention.
Expert care
Thanks to Dogs Trust, Indiana was able to get the very best care possible from highly skilled vets; operating on her to realign her leg and fitting her with an external fixator and pin to support her while her leg recovered.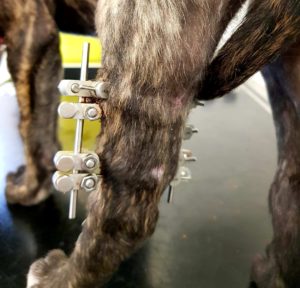 Indiana then went to stay with one of Dogs Trust's amazing staff, Jo, who provided her with a foster home to make sure she was as comfortable as possible and give her the space and love she needed while her leg healed.
Indiana was soon settling into her temporary home, enjoying all the comforts of family life and was well on her way to a full recovery. Being the energetic, playful young puppy that she is, she sometimes found it difficult to get the rest she needed to heal but Jo made sure she had lots of fun activities to keep her settled and calm.
Puppy power
As all puppies do, Indiana grew quickly, and the fixator had to be loosened to accommodate her new growth. Eventually, the fixator and pins were removed from her leg and she was allowed gentle exercise with her foster family.
Thankfully, by her next health check, Indiana was deemed fully recovered and ready for adoption. On her first health check she had weighed in at 1.5kg and on the second she weighed a whopping 9kg! The staff at the Rehoming Centre had no doubt that Indiana was going to be a big, healthy and happy puppy.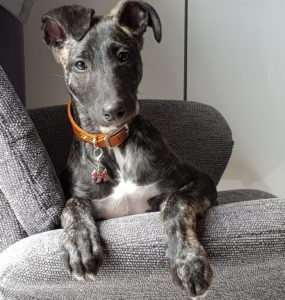 A paw-fect ending
After being given the all-clear, Indiana quickly stole the hearts of a lovely local family and was soon off to start the next chapter of her life. Despite her uncertain first few weeks, Indiana – thanks to the care she received at Dogs Trust and her amazing foster carer Jo – was given a second chance at a better life and is now fully settled into her new home.
A love that lasts forever
Leaving a gift in your Will to Dogs Trust could mean hope for thousands of dogs like Indiana who need a helping hand to find the loving home they deserve. Around a third of our income comes from supporters who have very generously decided to leave a gift in their Will to Dogs Trust. Without their kindness, our vital work simply wouldn't be possible.
Find out more
For more information or to find out how you can leave a lasting legacy to Dogs Trust and continue to care for dogs like Indiana long after you're gone, please visit www.dogstrust.org.uk/get-involved/wills-legacies or call 020 7837 0006.