Bringing creativity into the curriculum
Birmingham Hippodrome is well known as one of the largest touring theatres in the UK. Fewer people, however, know that it's also a charity.
As part of their vision for a world-class Birmingham arts scene, Birmingham Hippodrome works closely with schools in the West Midlands to provide young people with creative opportunities.
Lucy Prince, Creative Arts Director at Shireland Collegiate Academy, shares how their students have benefited from being part of the Hippodrome Education Network.
Working with the Hippodrome Education Network
Our involvement with the Birmingham Hippodrome has been priceless. Through our partnership, students have been given the opportunity to experience all types of theatre in education. Birmingham Hippodrome delivers a diverse range of projects for our students, both inside and outside the Academy, which gives them a better understanding of the performing arts industry. So far, our students have been involved in performance projects, careers days, meet and greets, work experience, live shows, curtain raisers, festivals and much more.
For our students who have mental health, economic and wellbeing issues, Birmingham Hippodrome have provided a stable and exciting network that encourages positive minds through the focus of theatre, whether that be through dance, drama or live performance. We have seen first-hand how the network has encouraged confidence, self-esteem and professional opportunities.
"Theatre school has given me so much confidence to push myself. I've performed in so many shows and met so many friends. I used to struggle to make friends as my confidence was so low, but the environment that theatre school created for me was exciting, structured, rewarding and, most of all, fun. I was scouted to attend the Hippodrome's Musical Theatre Company after our Hippodrome staff saw me perform last year. Believing in myself was hard but now I do."
Year 11 student, Shireland Collegiate Academy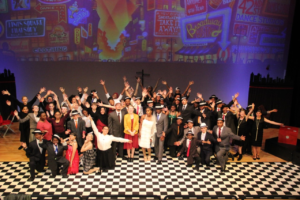 Developing future careers
Having a designated Learning Officer in our schools once a week, as part of the Hippodrome Education Network, has really helped our students understand the different opportunities within the industry and how accessible theatre can actually be.
I feel it has removed the stigma about jobs in the performing arts and allowed students and families to get broader understanding of what's included in theatre and that it's not just about `performing on a stage`.  
This has connected the dots that were missing before and encouraged confidence when discussing opportunities in the arts, and this for us was essential.
Leaving a gift in your Will to Birmingham Hippodrome
As a charity, Birmingham Hippodrome relies on generous donations to continue its work, not least through gifts left in Wills. By leaving a gift in your Will, you can support this unique education work and ensure future generations of young people have access to the arts, helping them to not only develop their careers, but to develop as well-rounded individuals.
Find out more
Find out more about leaving a gift in your Will to Birmingham Hippodrome.