It takes more than a global pandemic to deter Emma
Published on
Emma, who loves cooking, was over the moon when she started her perfect placement as Café Assistant at The Clink Café in Manchester.
The placement was arranged by charity The Rossendale Trust who, through their WorkTaste programme, provide employment opportunities for people with learning disabilities.
After just six weeks, Emma was given the fantastic opportunity to undertake her Food and Beverage City & Guilds qualification. But then, suddenly, lockdown put an end to all WorkTaste placements.  
Emma finds a way
Despite being in lockdown, Emma was enthusiastic to learn and really keen to get started. So that's exactly what she did. With the help of her WorkTaste coach Keely, Emma has been able to continue with her qualification online. She has two or three video calls with Keely each week to make sure she's on top of her course.  
"The warmth and support shown to Emma by the staff at The Clink has been exceptional," says Keely. "It has given Emma the self-belief to press on with her City & Guilds remotely during lockdown. She has done phenomenally well to stay focused and positive. She's an absolute joy to work with."  
Emma has also used the video calls to hone her practical cooking skills, where she has been able to showcase her baking talents! 
Staying positive during lockdown
"Starting a City & Guilds in Food & Beverage service has challenged me in different ways," says Emma. "Continuing my course feels like I'm achieving something which helps me stay positive during lockdown.
"It's been good to get out of my comfort zone and it's surprised me how much I can do. During isolation, I've really enjoyed trying out the new cooking skills I learnt at The Clink Café. This has built my confidence working with food."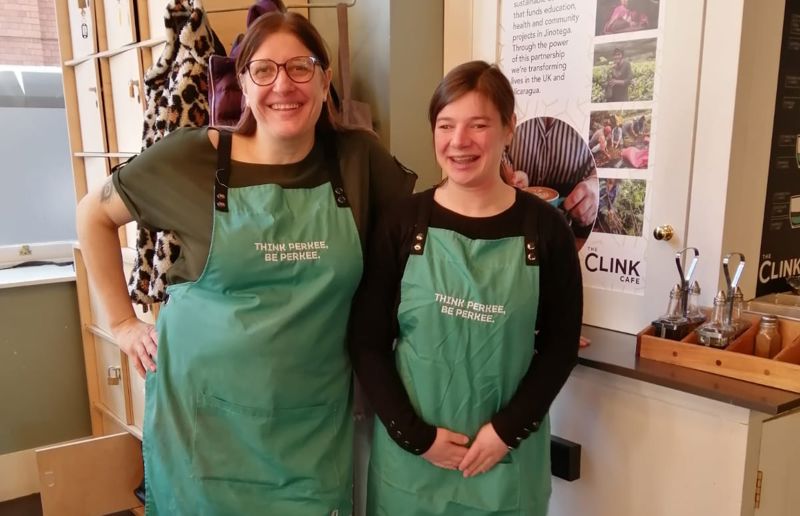 Emma also has the full support of her colleagues at The Clink Café like Jenny, who says, "It has been a pleasure to have Emma working with us in preparation for her City & Guilds qualifications. She has shown great enthusiasm and potential, and we look forward to getting the placement underway again as soon as we can." 
Emma can't wait to return to The Clink Café and put into practice what she has learnt so far.
So, what is WorkTaste?
WorkTaste is a supported employment programme that provides opportunities for adults with learning opportunities to gain real-life experience in the workplace.
Delivered by charity The Rossendale Trust, WorkTaste aims to open doors into employment that are traditionally closed for people with learning disabilities.
Individuals receive personal, one-to-one support in a vocational area of their choice, breaking down the barriers to work that adults with learning disabilities often encounter. 
A future of inclusion for people with learning disabilities 
WorkTaste proves that, with the right support, people with learning disabilities can fully engage in the workplace, enabling them to feel included and to make a valuable contribution to their local community. 
In a world where no one should be denied the opportunity to fulfil their potential, the Rossendale Trust is committed to providing a future where people with learning disabilities are not excluded from the workplace.   
Find out more
To find out how you can support the Rossendale Trust to provide more opportunities for people with learning disabilities, please visit rossendaletrust.org/support-us