Lockdown litter of kittens
What would you do if 11 kittens arrived on your doorstep?
Luckily, Hayley knew exactly what to do. Hayley works for charity Here for Cats. She's been busier than ever during lockdown, rescuing cats and taking them to the vets for checks, while social distancing and using PPE.
Last month, 11 tiny kittens, along with three adult cats, came into Here for Cats'  care after the owners were unable to cope with them.
"The kittens were born to two mother cats which the owner had neglected to neuter," says Hayley. "It was raining when I came to collect them, so they were all shivering outside under a makeshift brick BBQ".
Fortunately, Here for Cats already had a raft of potential people to adopt the kittens and adult cats. "We've been bombarded with applications for cats and kittens while people have been on lockdown," says Hayley. "This has meant we've been able to quickly find them loving new homes where they can be happy and safe."
In a single day, and with help from Bagshot Pets at Home, Here for Cats were able to find new homes for all 11 kittens. They all had full health checks and vaccinations before meeting their delighted new owners. "They're both settling in well," says Laura, who adopted two of the kittens. "The kids are so in love and i'm loving the peace. I've never known them to be so quiet. Everything is said in a whisper!"
Here for Cats during lockdown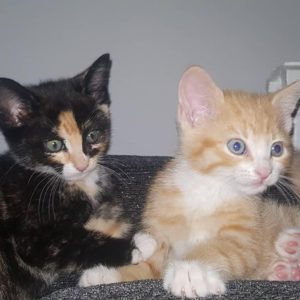 Here for Cats is following Government guidelines on social distancing and has launched virtual adoptions to comply with current regulations. This involves online interviews and virtual house tours to ensure cats are matched with the right homes.
While the pandemic continues, more cats will lose their homes for economic reasons and because of tragedy. Some might have owners who struggle to pay for pet food while others might need temporary or permanent care.
At the same time, there are more people who are suffering from isolation who would love an animal companion. With all their fundraising events cancelled for the foreseeable future, Here for Cats need you now more than ever to help look after cats.
That's why they're asking the caring cat community to kindly consider leaving them a donation. For more information, please visit www.hereforcats.org