Love in a time of Covid-19
James and Imogen were excited to meet each other for the first time after being paired together through dating service Luv2meetU. Then the pandemic struck.
Luv2meetU is a friendship and dating service for people with learning disabilities provided by charity Hft.
Before lockdown, James, 31, loved getting involved in the community and spent time volunteering as a gardener. Imogen, 29, leads an active social life and, prior to Covid-19, worked in a supermarket and was learning to sing.
Determined not to let the pandemic get in the way of love, the team at Hft supported James and Imogen with a video conference chaperoned date.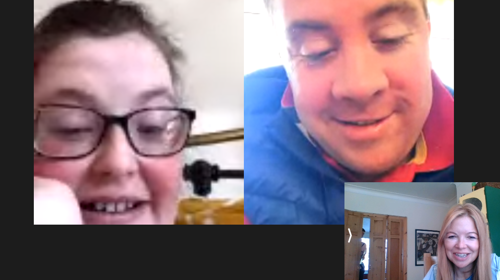 The date went well. James was interested in Imogen's work and Imogen was fascinated by James's travels abroad. He was born in Zimbabwe and returns every two to three years.
They both said they enjoyed the date, and are now texting and phoning each other to arrange another chaperoned date in a coffee bar. They have plenty of time to learn more about each other and see if love or friendship blossoms.
Staying sociable in lockdown
For many people with a learning disability, gaining more independence and being sociable are skills that take years to develop. The pandemic threatens this progress.  
"We very much take for granted that our independence and social skills are ingrained," says Karen England, Project Development Manager for Luc2meetU. "But for some people with a learning disability, these are the result of years of hard work."
The Luv2meetU team normally run social events including walks, pub visits, bowling and club nights for people with learning disabilities – and crucially, provide a safe space for people to build meaningful friendships and relationships.
Now that these events are cancelled, Hft's amazing staff have found creative ways to keep the people they support safe, healthy and happy. Hft are now running online social gatherings online – reducing the loneliness and isolation caused by lockdown, and helping people with learning disabilities to expand their social networks.
Rising to the challenge
Chaperoned meet-ups are just part of the new virtual programme on offer from Luv2meetU, as many of the regular members now meet in group conferencing calls. While the group can't play sports together or visit restaurants, they still want to see each other and catch up.
For James, meeting new people online means that he always has friends he can rely on – and he can be there for them throughout the pandemic and beyond. "I've enjoyed the online events." says James. "I've really enjoyed the opportunity it has given me to make new friends. We have swapped numbers and are texting, phoning and skyping.
It's given me the chance to help others by offering conversation. It's been a real eye opener, hearing about the lives of others, particularly one of my new friends who is shielding to protect his health."
Karen England says, "The fact that our members are missing one another and rising to the challenge of using video calls as a social mechanism is wonderful. They're keen to maintain existing relationships or find new friends – and they're looking out for one another.
"The statistics surrounding people with learning disabilities show that around 50% feel isolated – that was before Covid-19. We must continue to find new ways to adapt and support people digitally so they can expand their social networks."
Adapt to thrive
Katie Tennyson, Gifts in Wills Manager for Hft, explains that while the future is unclear, innovation will be at the forefront of surviving the impact of Covid-19: "It's likely that funding for social care will continue to be squeezed as the nation counts the cost of the pandemic and we want to ensure that essential services like Luv2meetU don't suffer. This is relevant today, but even more so in the future– whatever that looks like."
Find out more 
Hft have launched an emergency appeal to support people with a learning disability in need during the pandemic: hft.org.uk/get-involved/fundraising-ideas/pandemicappeal If you'd like to find out more how you can support Hft through this difficult time, you can speak with the Supporter Care Team on 0117 9061 699 or e-mail hello@hft.org.uk.