A second chance at life for Peter
Published on
At just four days old, Peter was found by builders living under a shed, along with three other kittens.
Tiny, fragile, covered in dirt, and with his umbilical cord still attached, he probably wouldn't have survived much longer if he hadn't been brought in to charity Wood Green.
Peter's mum was nowhere to be seen when he was discovered, and he desperately needed care, nourishment and warmth. Sadly, the three other kittens did not survive. But Peter still stood a chance.
Dedicated care, and lots of love
When Peter arrived at Wood Green, he was cold, dehydrated and starving. Wood Green's veterinary team gave him a full health check and antibiotics. They also cleaned and fed him.
They knew he would benefit from some extra love and care with one of Wood Green's devoted, highly experienced foster carers – so this was swiftly arranged.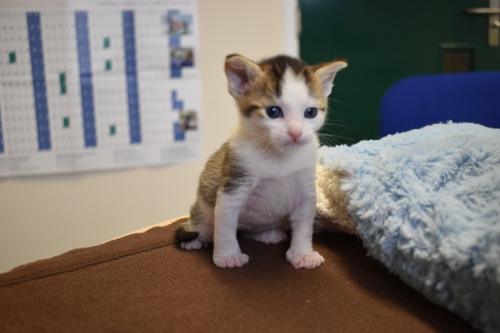 In the foster home, Peter received the dedicated attention he needed to build up his strength and recover, which included bottle feeding every two hours.
But after a couple of weeks, he seemed to be fading. He was quite shaky and had a head tremor, so his fosterer took him to an out-of-hours vet where he was treated for dehydration.
On a follow-up visit, Wood Green's vets examined Peter and X-rayed him. His foster carer was still concerned about his health; he seemed uncoordinated and not in control of his legs.
The vets concluded that, although he had no serious problems, he needed treatment to help him get stronger and aid his growth, which included physiotherapy to build his muscles up.
This involved lots of chase games and feather toys, as well as tearing up and down the stairs. It was very important to keep him active – the sprightly chap really loved to play!
A life turned around
After 65 days of care from Wood Green's vet team and fosterer, Peter was ready for the next chapter in his life. Wood Green soon found him a loving new home, where he's getting all the love and care he deserves.
"We have the infrastructure and veterinary services in place to be ready for these animals when they need us," says Wood Green vet Bree. "Peter was able to be treated and go out to an experienced fosterer within hours of arriving. We couldn't do our job without the help of our wonderful supporters."
Caring for pets like Peter during Coronavirus
In these difficult times, pets and their owners have needed Wood Green's support more than ever before.
The charity has worked tirelessly to adapt and continue to be there for them, but the crisis has had an enormous impact. Wood Green had to limit their intake to pets in the greatest need, pause rehoming, close their shops, and postpone fundraising activities – hugely restricting their ability to raise money.
Despite these challenges, Wood Green has never compromised on the care of their pets. Over 200 animals were placed in foster homes, allowing them to reduce staff on site while still being able to help pets in need of emergency care.
Wood Green has found innovative ways to continue supporting pets remotely, including veterinary consultations over Skype and virtual pet introductions to potential new owners.
And working with partners like The British Red Cross, they have been delivering pet food supplies in local communities. Of course, none of this vital work would have been possible without the generous donations they receive.
Help more pets like Peter by supporting Wood Green
Wood Green helps thousands of homeless and vulnerable pets every year. Many arrive in a truly appalling condition, clinging onto life after being abandoned.
Peter the kitten's story is, sadly, all too familiar – and heartbreaking.
But thanks to the kindness of their supporters, Wood Green could be there for him. Please consider leaving a kind donation to Wood Green and help support vulnerable animals like Peter at this difficult time.
Every donation, no matter how large or small, makes a real and lasting difference – giving pets in need a second chance at life.
Find out more
For more information and to find out how you can donate to Wood Green, please visit woodgreen.org.uk/how-to-help