This is Suki the moon bear. Suki is an absolutely wonderful character. She loves to be the top bear, climbing to the top of any platform to get the best vantage point.
She likes playing with hanging toys and generally prefers her own company, but she does like to watch her friends Jigsaw and Bridger playing from her elevated position.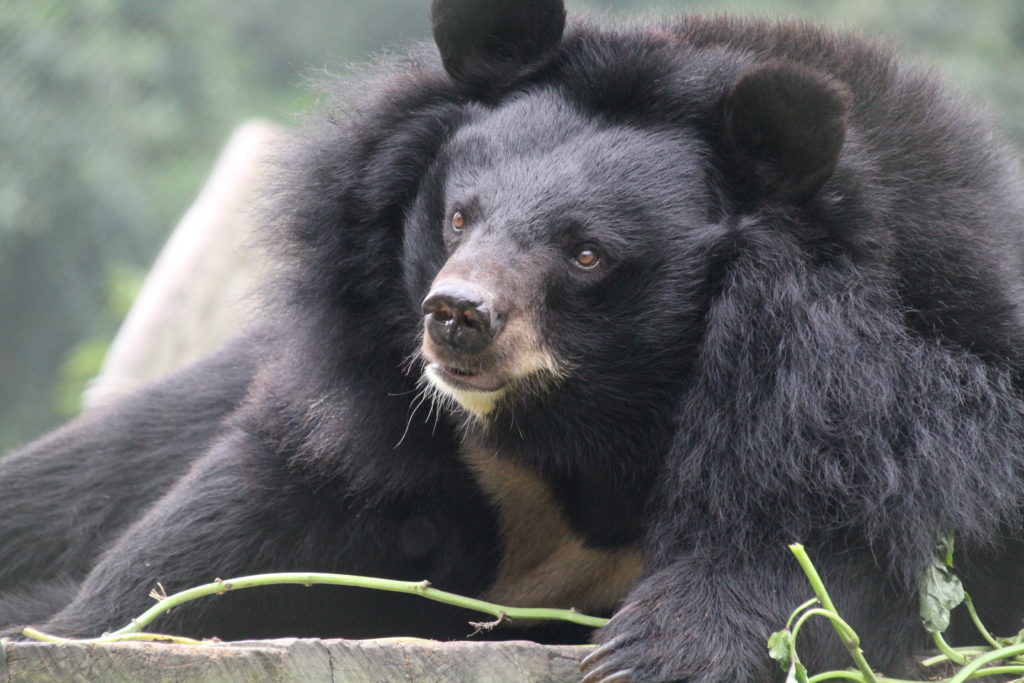 Suki's rescue from a concrete cell
Suki was rescued in 2010, along with 17 other bears who had all been kept in tiny concrete cells for seven years after being caught in the wild.
Animals Asia stepped in after forest protection officials decided to close down the farm because it failed to meet regulations governing minimum cage size and ventilation. Before the farm was closed one bear died while having its bile extracted for use as traditional medicine.
A safe place for Suki
Suki and the 17 other bears narrowly avoided that deadly fate and were brought to Animals Asia's award-winning Vietnam Bear Rescue Centre to live out their days in spacious enclosures with the best care available in the world.
The rescued bears are given a taste of paradise, with experts taking care of their nutrition, health and emotional wellbeing by encouraging natural behaviours and play.
Landmark agreement to end bear bile farming
Suki was the 46th bear to be rescued to the sanctuary in Vietnam and since her arrival another 165 bears have been brought home to join her. Since Suki's rescue, Animals Asia has also secured an agreement with the Vietnamese government to bring all the bears still in cages in Vietnam to the sanctuary.
Rescuing over 640 bears and counting
Overall, including bears cared for in China, Animals Asia has rescued 648 bears since it was founded 1998, as well as promoting cat, dog and captive animal welfare throughout Asia.
The charity has also worked closely with the largest Vietnamese traditional medicine association to reduce demand by stopping prescriptions of bear bile and running educational campaigns about herbal alternatives.
Animals Asia - delivering kindness in action
Across Asia, thousands of bears are still imprisoned in tiny cages on bile farms like Suki was. Most farmed bears are starved, dehydrated and suffer multiple diseases. Thanks to its caring supporters, Animals Asia can provide these bears with sanctuary, advocacy and a life enriched by joy, friendship and love.
Animals Asia believes that no animal should be born to suffer and every soul deserves a full life lived in safety and happiness. With the help of compassionate individuals, Animals Asia delivers kindness in action.
Whether that action is funding projects to crack down on the illegal smuggling of wild birds in Indonesia, running education projects about dog and cat welfare in China or constructive collaboration with the authorities to bring about lasting change in Vietnam.
Leave a gift in your Will to Animals Asia
By leaving a gift in your Will to Animals Asia you will be making the ultimate promise to these gentle bears, to be with them in years to come.
Animal Asia's promise to you is that they won't stop until every last bear is free.
With your generous support they will continue to take action for bears who are callously tortured for their bile, for dogs and cats snatched from the streets and slaughtered for food, for animals stolen from the wild solely for the amusement of people.
Your gift will mean Animals Asia can continue to defend and rescue innocent animals like Suki on your behalf, and in your name.
Find out more
If you would like to discuss leaving a gift in your Will to Animals Asia or request a Legacy Pack, you can call Animal Asia's Supporter Care Team on 01752 224424, email leavealegacy@animalsasia.org or visit the Animals Asia website.