Eunice's story
Eunice is 90 years old and a mother of five. Despite living alone for many years after her husband passed away, Eunice continued to maintain a healthy social life, until Covid-19 struck.
Speaking about the impact that lockdown has had on her, she said: "It's been very hard. Very hard because of the shielding. I'm a very social person, I like people, I've always gone to social clubs, but because of Covid I haven't been able to attend".
With a once busy social life, the cancellation of the weekly clubs left Eunice beginning to feel like a prisoner in her own home.
"When lockdown happened, I cried," says Eunice. "I was very, very low because quite a lot of my family were shielding themselves. I felt very lonely. To be honest, it felt like being in prison. I just felt I had nobody that I could turn to".
Eunice, who is visually impaired and uses hearing aids, was at risk of missing key medical appointments as she became increasingly worried about leaving her home because of the virus.
A valuable new friend
Luckily for Eunice, she was signposted to Natalie from British Red Cross. Natalie made sure Eunice could get to the hospital and she accompanied her on all of her appointments. Natalie continues to check up on Eunice every week to make sure that she is coping ok.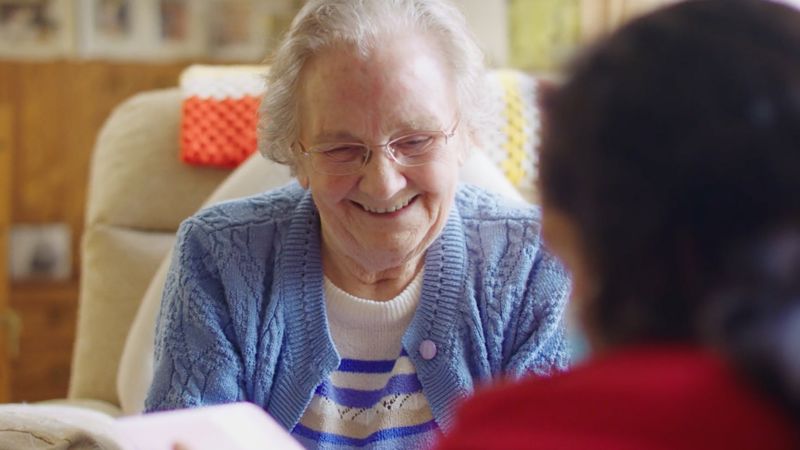 "When Natalie calls to tell me that she will be visiting, I feel euphoric," says Eunice. "And that's the only word I can say. I've only got to hear a voice, she's perfect. I'm sure everybody else that works for Red Cross is like that. Because they wouldn't be in that job unless they cared. And that's the secret - the caring."
Positive for the future
Thanks to support from dedicated Red Cross volunteers and staff, Eunice has been able to attend much needed medical appointments and is now feeling positive and looking forward to the future.
One plan that Eunice is hoping to turn into reality is a trip with her daughter to Tatton Park Flower Show, which was cancelled in 2020 due to the pandemic.
"The friendliness and the care that I received from Natalie, I can't tell you. I can't put it into words how she made me feel. She came along and helped me. I came home after the hospital visit and I rang all my family and told them I feel as though I've been on holiday, but I'd just been to the hospital".
Helping local communities during the pandemic
When it comes to assisting and supporting those in need, 2020 was a year like no other and one that the British Red Cross dived into without hesitancy.
Whilst continuing to help those in crisis on the other side of the world, the British Red Cross increased its presence in our local communities too, assisting those shielding and vulnerable from Covid-19.
Working tirelessly to support those isolated and alone, British Red Cross workers have been out in force, reaching over 1.5 million people with food, medicine, cash and emotional support throughout the pandemic.
Support the British Red Cross and leave a legacy
The support given to Eunice by Natalie is only made possible through the kindness of supporters and gifts left in Wills to the British Red Cross.
A gift in your Will can ensure that the British Red Cross is there at the side of those in need, during their darkest hour, providing the care and support that they require, no matter the crisis.
Find out more
For more information about writing your Will for free with the British Red Cross or leaving a gift in your Will to the charity, please visit redcross.org.uk/freewill or call 0300 500 0401.